Maysles Cinema
Rental Information
343 Lenox Ave/Malcolm X Blvd
New York, NY 10027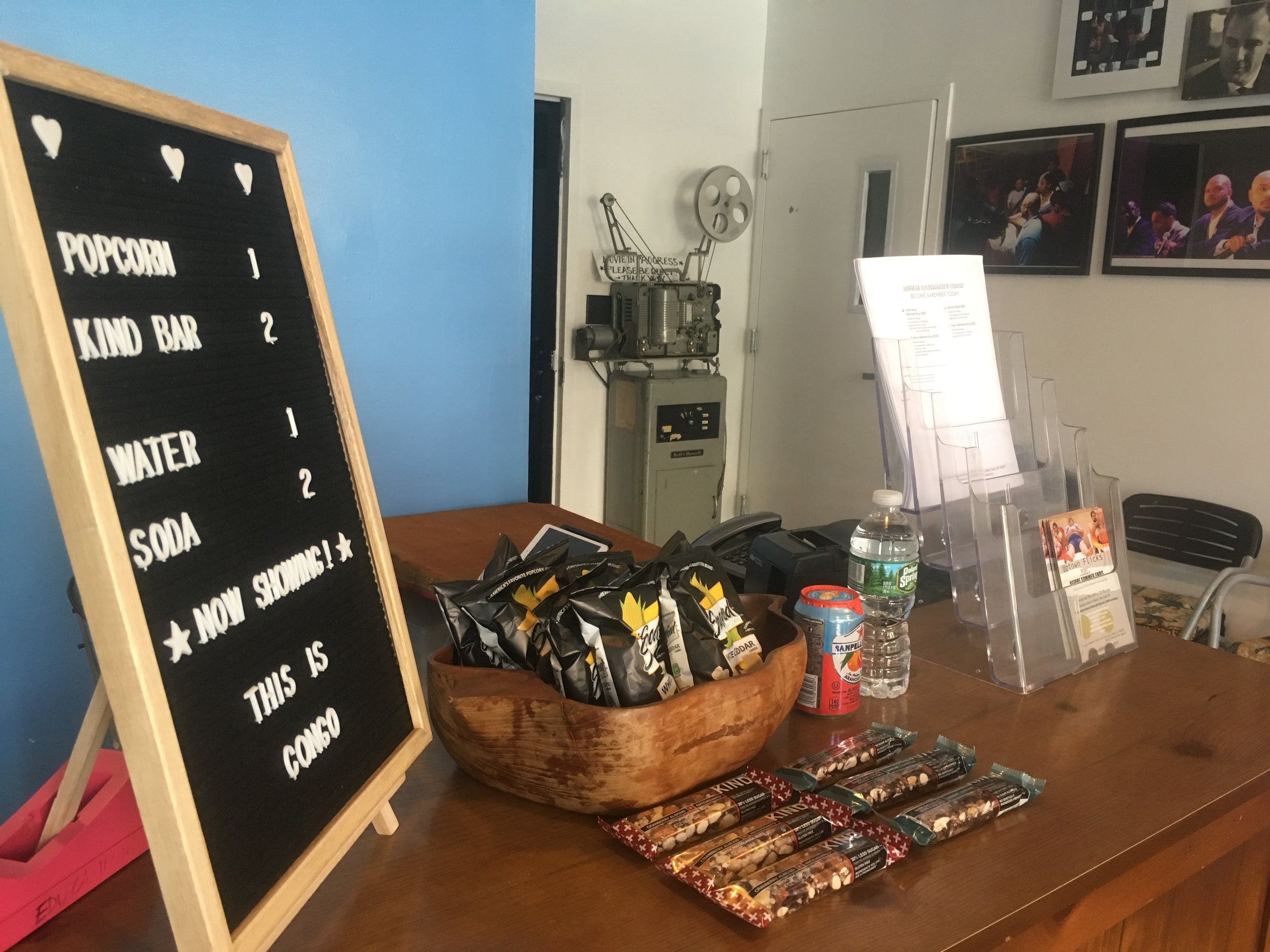 MAYSLES Cinema and Special Events space are available for rent for private and public screenings, Oscar Qualifying runs, press screenings, premieres, work-in-progress screenings, week long runs, and DCP tests, meetings, parties and more…
Cinema:
Our cinema is outfitted with 5.1 Dolby Surround Sound and a NEC iS-8-2K DLP Projector. The screen size is 13' x 5'. Maysles Cinema is 51 seats.
Special Events Space:
The reception, party and meeting room is available for rent either on it's own or in conjunction with the cinema. The reception area can also be used as an additional screening room (for Blu-ray, DVD, Computer only). This cinema themed room has a capacity of 60 people seated and 110 standing.
Hourly Rates *
$350/hr

weekends & evenings 6pm—12am

$250/hr

weekdays 9am—6pm

$150/hr

Event Space only

*3 hour minimum

Cinema Rental Packages

$9,000

oscar-qualifying run

$6,500

full week run, once per day
Please note that a minimum 30% (of full rental fee) deposit is required to reserve the space for all hourly rentals.
Rentals Include
Use of cinema and downstairs reception and overflow screening area
One projectionist/house manager
Ticket taker, if needed
Supported Screening Formats
DCP
Blu-ray
DVD
Apple ProRes (via HDMI connection)
16mm in select cases
Rental FAQs
What types of screenings can take place at Maysles Cinema?
Our cinema is available for private and public screenings, Oscar-qualifying runs, press screenings, premieres, work-in-progress screenings, weeklong runs, and DCP tests.
My film is not a documentary. Can I still screen it at your cinema?
Yes. Our rental program is open to films of all genres.
What screening formats does Maysles Cinema support?
DCP, Blu-ray, DVD, Apple ProRes (via HDMI connection), 16mm in select cases. Our cinema screen is 13' x 5'.
What kind of equipment do you provide?
Maysles cinema is outfitted with 5.1 Dolby Surround Sound and a NEC iS-8-2K DLP Projector. Our equipment is MPAA-certified.
What is the capacity?
Our cinema holds 51 seated. Our downstairs overflow/reception area has a capacity of 110 (standing) and 60 (seated).
What if I have more than 51 people who want to attend a screening?
Our downstairs reception area can be used for simulcast.
Do you provide on-site support?
Yes, all rentals include a staff projectionist/house manager. We can also provide a ticket taker for an additional fee.
Can I charge admission/sell tickets to my screening?
Yes, you can sell tickets/charge admission to your screenings and keep all proceeds. Maysles Cinema only requires the rental fee as payment.
I am renting on behalf of a nonprofit, can I get a discounted rate?
For select non-profit agencies we are able to offer a discounted rental rate.
For further information please feel free to contact us at
Email: rentals@maysles.org
Phone: (212) 537-6843