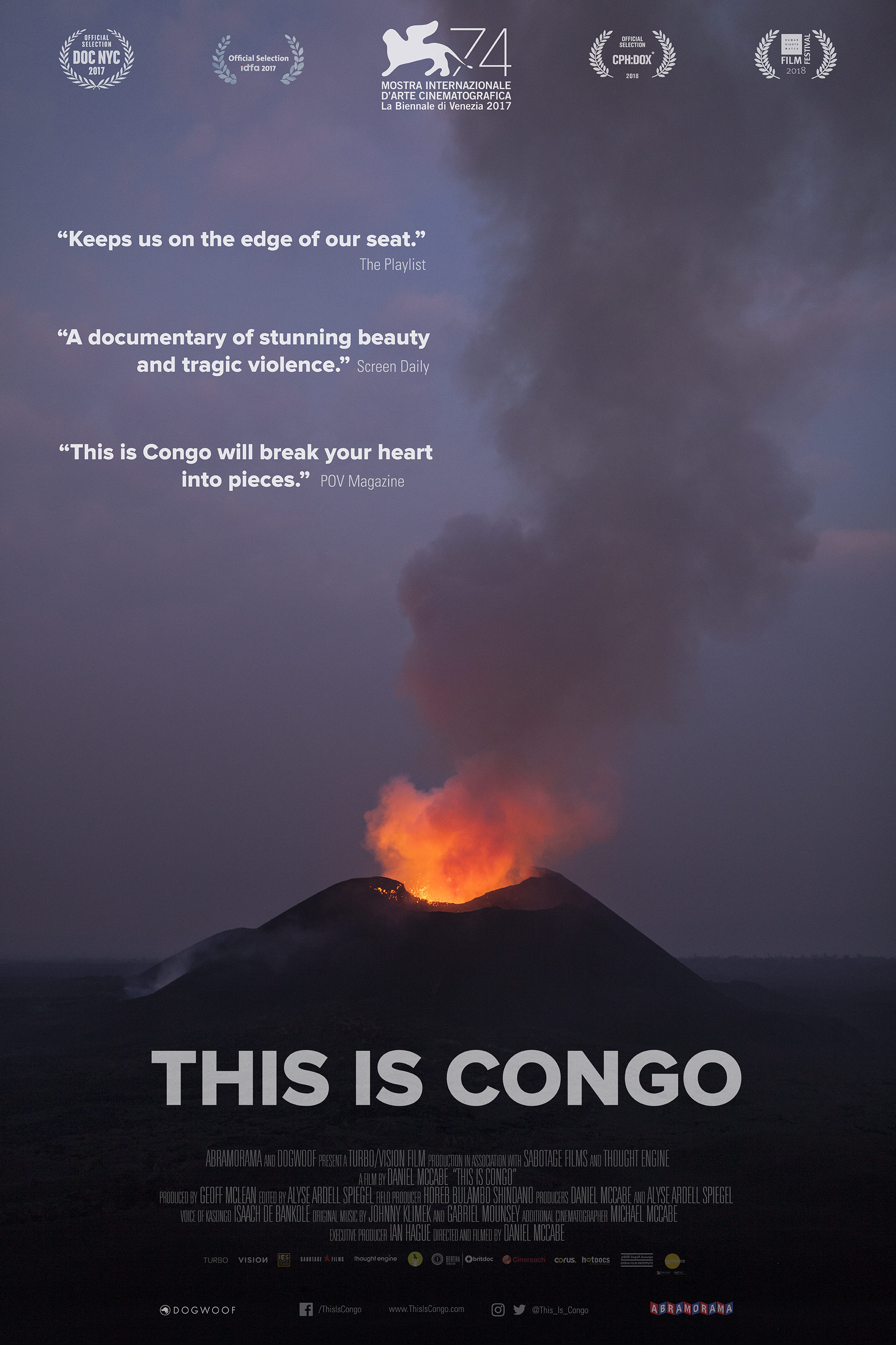 U.S. Theatrical Premiere
Daniel McCabe, 2018, 91 min
2:00pm, 4:30pm, 7:00pm, 9:45pm
Co-presented by Friends of the Congo
"Keeps us on the edge of our seat." -- The Playlist

"A documentary of stunning beauty and tragic violence." -- Screen Daily

"This is Congo will break your heart into pieces." -- POV Magazine

This is Congo provides an immersive and unfiltered look into Africa's longest continuing conflict and those who are surviving within it. By following four compelling characters — a whistleblower, a patriotic military commander, a mineral dealer and a displaced tailor — the film offers viewers a truly Congolese perspective on the problems that plague this lushly beautiful nation. Colonel 'Kasongo', Mamadou Ndala, Mama Romance and Hakiza Nyantaba exemplify the unique resilience of a people who have lived and died through the generations due to the cycle of brutality generated by this conflict. Though their paths never physically cross, the ongoing conflict reverberates across all of their lives.

When This is Congo begins in 2012, Rwandan and Ugandan-backed M23 rebels have begun massing in the North Kivu region of Congo, threatening peace and stability. As the film progresses, we watch as the rebellion mounts in intensity and witness its effects on the film's four major characters firsthand, while flashing back to key moments in Congo's history. By the film's conclusion, three years later, This is Congo has documented this latest cycle of violence from beginning to end and thoroughly unpacked the legacies of colonialism, resource exploitation and genocide that helped make the Congo what it is today.
Friday, June 29th, 7:00pm: Director Daniel McCabe, producer and editor Alyse Ardell Spiegel, and Kambale Musavuli, Spokesperson for Friends of the Congo.
Saturday, June 30th, 7:00pm: Congolese Independence themed panel with director Daniel McCabe and producer and editor Alyse Ardell Spiegel, and Lubangi Muniania, of Tabilulu Productions and a Congolese music, art and culture expert, followed by a reception.
Sunday, July 1st, 4:30pm: Director Daniel McCabe, producer and editor Alyse Ardell Spiegel, and Queen Diambi Kabatusuila of Kasai Kingdom of the Democratic Republic of the Congo.
Monday, July 2nd, 7:00pm: Patrice Lumumba themed panel in honor of his birthday (July 2nd, 1925-January 17th, 1961) with Milton Allimadi, Blackstar News, Dr Ron Daniels, Pan African Unity Dialogue, and Bibiane Tshefu, Friends of the Congo. This program is co-sponsored by Friends of the Congo, Black Star News, Pan African Unity Dialogue, Africa-Newark International Inc. and the New Afrikan Commission.
Thursday, July 5th, 7:00pm: Helen Epstein, Bard College Human Rights Program and Author of "Another Fine Mess: America, Uganda and the War on Terror," Claude Gatebuke, Africa Great Lakes Action Network, and Milton Allimadi, Ugandan Analyst, Black Star News.

In honor of the 58th anniversary of the Democratic Republic of Congo's Independence (June 30th, 1960).
The Friends of the Congo (FOTC) is a 501 (c) (3) tax exempt an advocacy organization based in Washington, DC. The FOTC was established in 2004 to work in partnership with Congolese to bring about peaceful and lasting change in the Democratic Republic of Congo (DRC), formerly Zaire.
 
Official Selection in 2017
The Venice Film Festival, IDFA, DOC NYC and The Human Rights Watch Film Festival.